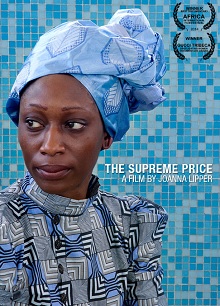 The Supreme Price |
« Le
prix suprême
»
Joanna Lipper (Nigeria, USA)
Special Mention | Mentions Spéciales
The filmmaker | La réalisatrice
[English]
Joanna Lipper is an American director, photographer and writer. Her work as a documentary filmmaker has been supported by the MacArthur Foundation, Ford Foundation, ITVS, Britdoc Foundation, the Tribeca Gucci Documentary Fund and Chicken & Egg Pictures.
[Français]
Joanna Lipper est une réalisatrice, photographe et écrivaine américaine. Son travail de cinéaste documentaire a été soutenu par la Fondation MacArthur, la Fondation Ford, ITVS, Fondation BRITDOC, le Fonds Gucci Tribeca Documentary and Chicken & Egg Pictures.
Synopsis
[English]
The Supreme Price is a feature length documentary film that traces the evolution of the Pro-Democracy Movement in Nigeria and efforts to increase the participation of women in leadership roles. Following the annulment of her father's victory in Nigeria's Presidential Election and her mother's assassination by agents of the military dictatorship, Hafsat Abiola faces the challenge of transforming a corrupt culture of governance into a democracy capable of serving Nigeria's most marginalized population: women.
[Français]
The Supreme Price est un documentaire long-métrage qui retrace l'évolution du mouvement pro-démocratie au Nigeria et les efforts pour accroître la participation des femmes à la direction. Après l'annulation de la victoire de son père à l'élection présidentielle du Nigeria et de l'assassinat de sa mère par des agents de la dictature militaire, Hafsat Abiola a face à elle le défi de transformer une culture de gouvernance corrompue en une démocratie apte à mettre au service de la population la plus marginalisée du Nigeria: les femmes.
Link | Lien