The Past Will Return | Gaye el Zaman
Dina Hamza (Egypt-Égypte)
Independent Shabab Foundation Prize for Best Artistic Achievement | Prix Independent Shabab Foundation pour le meilleur accomplissement artistique
The filmmaker | La réalisatrice – Synopsis
[English]
Dina, a young filmmaker, feels alone after the death of her father, Mohamed Hamza, a renowned poet who wrote songs for the biggest of Arab stars, the epic Abdel Halim Hafez.
In his desk, Dina finds clippings about the young women who committed suicide on the day of Halim's death in 1977—a story unknown to her. The despair and grief they must have felt echo her own feelings regarding her father's death.
But why exactly did they take their own lives? Dina decides to find out more about these young women and decipher their motivations, leading her on a journey into her father's past. Through these memories, she reconstructs his life and offers a glimpse of Egypt's history from the 1950s until the late 1970s. She comes to understand that Hamza's lyrics and Halim's voice served as the mouthpiece of this era of dreams and the ideals of the 1952 Revolution. Halim's death in 1977 signals the close of an important stage in both her father's life and that of Egypt. Then the unexpected occurs. On 25 January 2011, a new revolution breaks out, driving Dina to Tahrir Square. She finds Hamza's lyrics and Halim's voice reverberating around her.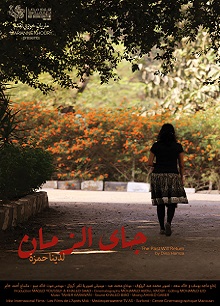 [Français]
La jeune réalisatrice Dina se sent seule après la mort de son père, Mohamed Hamza, un poète de grande renommée qui écrit des chansons pour les plus grandes vedettes arabes, dont le légendaire Abdel Halim Hafez.
Dans le bureau de son père Dina trouve des coupures de presse sur les femmes qui se sont suicidées à l'annonce de la mort de Halim en 1977—une histoire qui lui est inconnue. Le désespoir et la douleur qu'elles ont dûs ressentir font l'écho de ses propres sentiments concernant la mort de son père.
Mais pourquoi exactement ont-elles pris leur propre vie? Dina décide d'en savoir plus sur ces jeunes femmes et d'éclaircir leurs motivations, ce qui l'entraîne dans un voyage sur le passé de son père. À travers ces souvenirs, elle reconstruit la vie de son père et nous offre un aperçu de l'histoire de l'Egypte des années 1950 jusqu'à la fin des années 1970. Elle comprend que les paroles de Hamza et la voix de Halim servaient de porte-parole à cette ère de rêves et d'idéaux de la Révolution de 1952. La mort de Halim en 1977 signale la fin d'une étape importante autant pour la vie de son père que pour celle de l'Egypte. Puis l'inattendu se produit. Le 25 janvier 2011, une nouvelle révolution éclate, amenant Dina sur la place Tahrir. Elle y trouve les paroles de Hamza et la voix de Halim résonnant autour d'elle.
Photo source:
Poster | affiche: